Shoulder to Shoulder Global
Our Work
Shoulder to Shoulder Global (STSG) is a UK Global Health Initiatives organization that integrates academic and community partners to improve the health and well-being of an underserved community in Santo Domingo, Ecuador.
Students, faculty, staff and community members can participate in these transformative, short-term experiences in global health (StEGH). 
107,000
Medical Consultations Provided
15
Years of Patient Care in Ecuador
Short-term Experience in Global Health (StEGH) - Apply Now
Shoulder to Shoulder has four short-term experiences in global health (StEGH) in which our students can participate. Participants engage in a variety of cultural and service-learning opportunities while providing services such as basic medical and dental care, health education, school health screenings, women's health, home visits and community-based learning.
2024 StEGH Dates
*When applying, all full-time UK students are required to apply "for credit." All others applying may apply for "non-credit."
March 9 - 16 - UK's spring break
Internships
Internships are available at the Centro de Salud Hombro a Hombro in Santo Domingo, Ecuador. Internships range from 4 to 12 weeks and are customized based on your field of study, goals, and objectives.  Virtual options are available.
Fees: 
Rotation fee = $600 for on-going work at CMHH and preceptor time. This can be variable. Please contact Craig Borie at craig.borie@uky.edu for questions.
Apartment (if available) = $150-170 per month, paid directly to apartment owner in Santo Domingo. Utilities are around $15 per month. 
Travel Medical Insurance (TMI) = $50 app fee + $10.50 per week (Charged per week, not prorated per day) 
Malpractice insurance = $4.70 per day 
Airport arrival taxi = $35 (Pay directly to taxi driver) 
Hostel in Quito = $20 per night (Pay directly at hostel) 
Taxi from Quito to Santo Domingo = $15 - $60 (Depends on amount of luggage participant is taking) 
Daily bus or taxi to worksite = 50 cents to $4, depends if bus or taxi. 
Airport departure taxi = $28 (Pay directly to taxi driver) 
 
Please note: All fees are approximate and subject to change at any time.
Click here to apply for in-person internships.
Scholarships
Education Abroad offers the New Horizons scholarship. Please see the New Horizons scholarship on the UK Education Abroad website Programs > Education Abroad & Exchanges (uky.edu) for application deadline information or for related questions.  Deadline for the New Horizons scholarship is typically December 1st of the fall semester preceding the following years' spring and summer health brigades.
For certain healthcare providers, the Benjamin Josephson Fund provides $1,000 scholarships. You can find out more information at http://bhjfund.org/
STSG allowed me to grow as a public health student and as a human being! I enjoyed every aspect of this experience and it changed my life. It also guided me to pursue a career in global public health.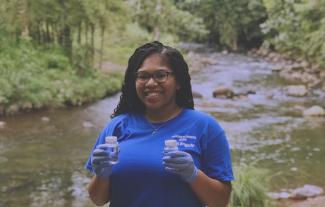 Frequently Asked Questions
When is the StEGH payment due?
Payment due dates, including the $300 deposit and the remaining StEGH fee balance, are sent as part of the StEGH acceptance.
Once accepted into the StEGH, do I buy my own airfare?
Yes, but please don't book travel until you receive an acceptance email from Craig Borie or Melody Ryan into the StEGH. Once accepted, you will also receive information about buying your flight ticket to Ecuador.  
Do I need to take the required course associated with the StEGH?
If you are a full-time University of Kentucky student, yes. If not, no. If you have questions or concerns, please contact craig.borie@uky.edu
If I am a full-time UK student, how will I register for the required course?
Note that if you are accepted as a student participant into the StEGH, your enrollment in the course is reserved, no need to worry. Directions will be provided to students if any action is needed on your part before the course begins. You will be notified of the course's times, dates and location before the first class session begins.
What if I am not accepted into the StEGH?
Applicants that are not initially accepted into the StEGHs are put on a waiting list and notified if an opening with the StEGH occurs. Note that UK full-time students that have applied to the StEGH before December 10th should be notified by no later than January 15th as to their application's status.
What if the StEGH is cancelled by UK, will I get my StEGH fee back?
If the in-person STSG STEGH is canceled by UK, STSG will refund the administrative fee to you.